Most recent updates toward end of post
I've outgrown my current space and finally broke ground on a new 1,000 sq. ft separate structure studio and gallery this past weekend. I've debated, quoted, sketched, and trifled over his for the past couple of years. With my wife's encouragement and support I finally decided to pull the trigger. The new space will be insulated. I plan to heat with propane. A wood-burning stove is a must. I will get internet access out there one way or the other. New studio additions will be a large vented spray booth that I can spray right in the studio instead of outdoors. I plan a kiln expansion with a well protected and dry kiln shed. Another absolute is a picture window facing the woods. I plan lots of work surface, storage, and lighting. The single most useful item in my shop is a large upright freezer I use to store wet work to extend it's workability. I am going to take a shot a building a larger air-tight wet cabinet for slow drying of bigger pots. I plan everything on wheels so that cleanup and mopping is less of a chore. Longer term goals will be open houses and studio sales and I may even open up some pottery classes. I definitely want a single width garage door so I can accept clay shipment by the ton on skids as opposed to humping 50 lb. boxes for hours.
My original plan was to build the studio myself but after a reflective review I've decided to handle only the excavation, insulation, interior, electrical, plumbing, and finish trim. I've hired an Amish construction company to build the shell and slab. Studio work would definitely have suffered for most of the summer if I took the entire project on myself as would my knees, elbows, back, and general disposition for making the decision. I think this will give me a good mix of economy and a realistic work contribution. I hope to move in some time this fall. Well, move over, it's 200' out my back door.
I will document progress on the blog and try to keep a progression of pictures, trials and tribulations. There seems to be a lot of interest on the web for building a pottery studio but I found very little that covered a lot of the questions I had such as layout, costs, building codes, etc. Budgeting and my energy will certainly drive timeline.
April 10, 2021
So, first thing's first - excavation. You need a flat spot to build and pour the slab. You need good drainage and as little back fill as possible so you have a solid underpinning for the slab. I have some acreage and I've got a lot of nice flat fields to build in but …. I had my heart set on a rolling knob back in a corner. Just couldn't get that spot out of my mind and I figured if I was going to go through all of this it needed to be where my heart wanted, screw practicality. This aspect of the build would become my cross to bear so damn the torpedoes. First step, call the rental company and get a Bobcat delivered. Well, that knob looked about 8" high to the untrained eye. It was more like 16" in the back and -6" on the front corner. This complicated things a bit. Digging is one thing, adding dirt is another. You need to add dirt 3-4 inch layers and compact each before adding another. So, back to rental company for a compactor. I had all this figured for an enjoyable weekend dig. That thinking was a little naive. Then the wheels fell off, almost literally, actually the Bobcat jumped a track. Now this is a 10,000 lb piece of equipment. Jacking it up was not an option for any jack I owned. It was a good thing I had my son helping who worked as a diesel agricultural equipment mechanic in the past because this was way beyond my mechanical experience. I learned this weekend that my son Michael is McGuyver. We had none of the tools you need. He powered through using every random piece of metal pipe in the barn and some crusty undersized Craftsman tools. Four hours later and lots of foul language with the help of my old Ford tractor we had it jacked, repaired and running. We called it a day.
Sunday morning, we dug a little, compacted a lot, and dug some more. Once I got it within 3-4 inches I decided that my power equipment digging skills had around a +/- 4 inch accuracy so I turned the fine tuning over to my son. We spread about an inch of gravel over the area and shot it with the transit, worked the humps and got it within an inch, good enough. The concrete guy will add another 4-6 inches of gravel for final grade before he pours.
It took 3 days to grade the pad and cut all of the drainage. I used around 60 tons of gravel and way more diesel fuel than I would have ever guessed. I've got right around a $1000 in gravel and equipment rental. Site prep was quoted at $8,000. Nice savings, good experience and a ton of satisfaction. Plus I did a lot of satisfying grunting playing with that Bobcat. I gotta get me one of these. Here are a couple of pics. I'll post the next steps which will be the digging of the holes. Oh yea, it's April 21, 2021 and it snowed today. Cant ever remember that happening. It was good timing on the dig. It's going to be about a month until the framing crew shows up. This will give the pad plenty of time to settle.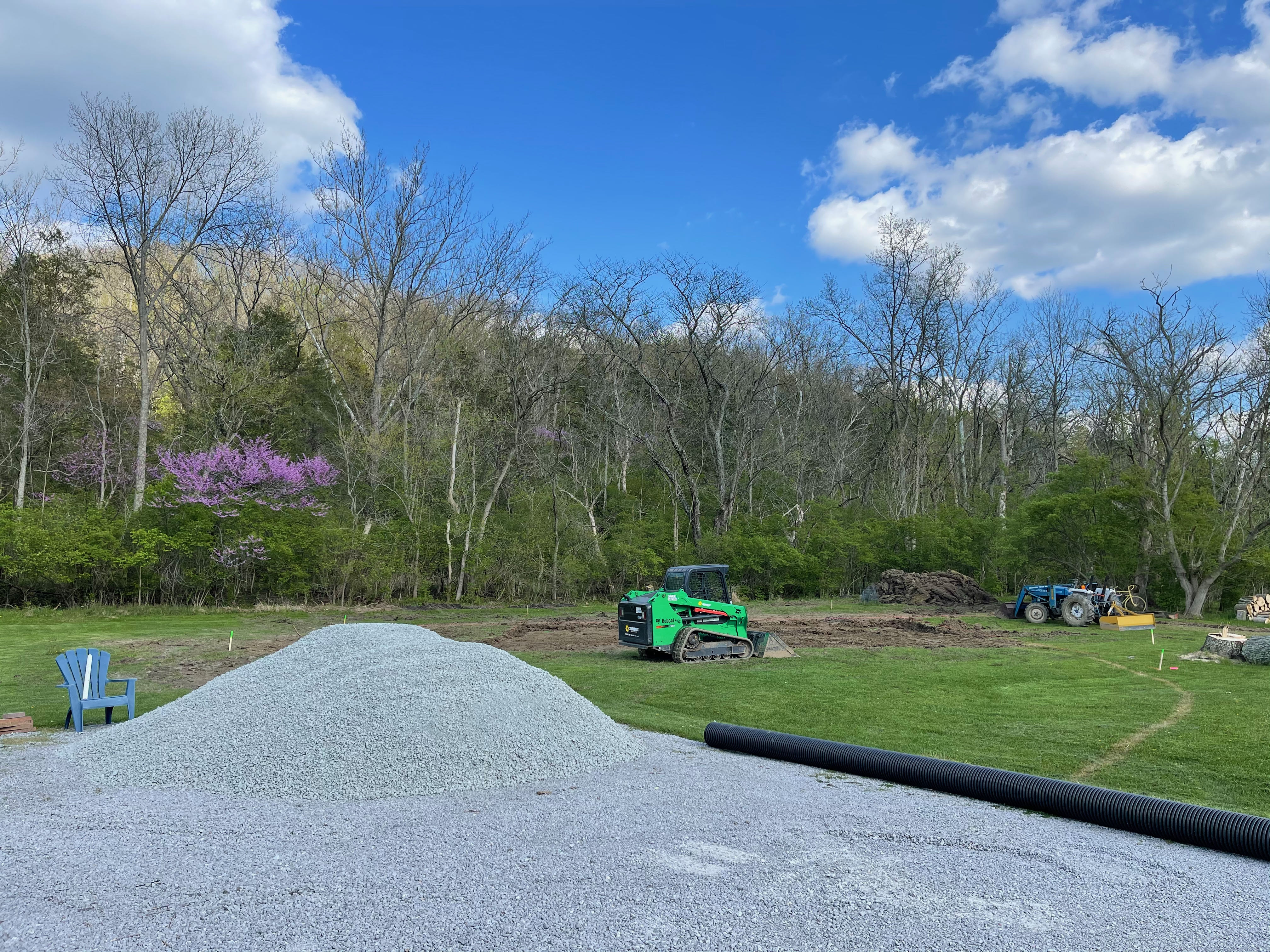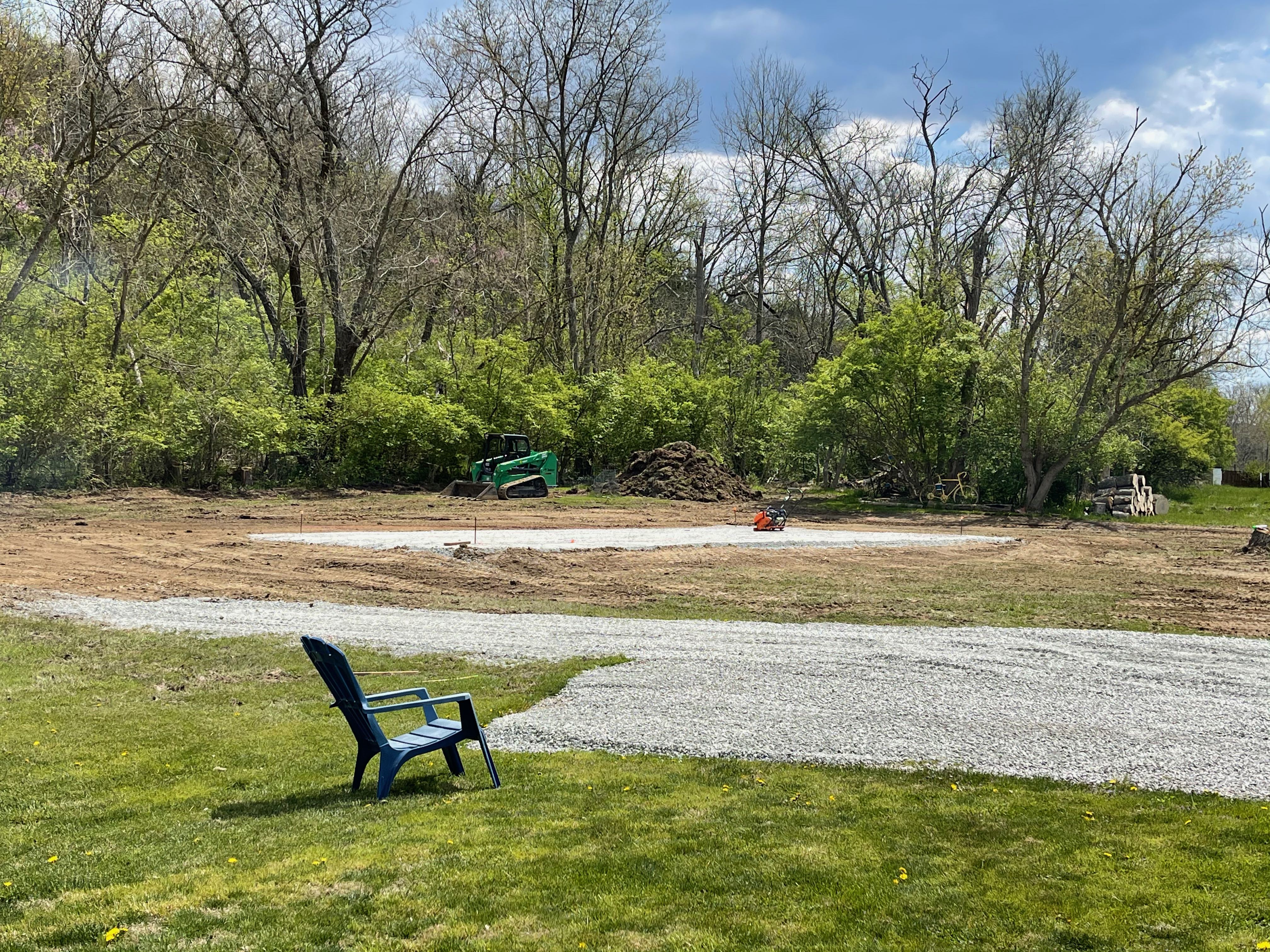 June 10, 2021
The studio was covered in Monday. Still waiting on Windows and doors. There is a picture window planned for the front and back. Concrete floor scheduled for week after next. Then starts the electric, plumbing insulation, and interior trim. Lot's to do. From this point forward the work is my own.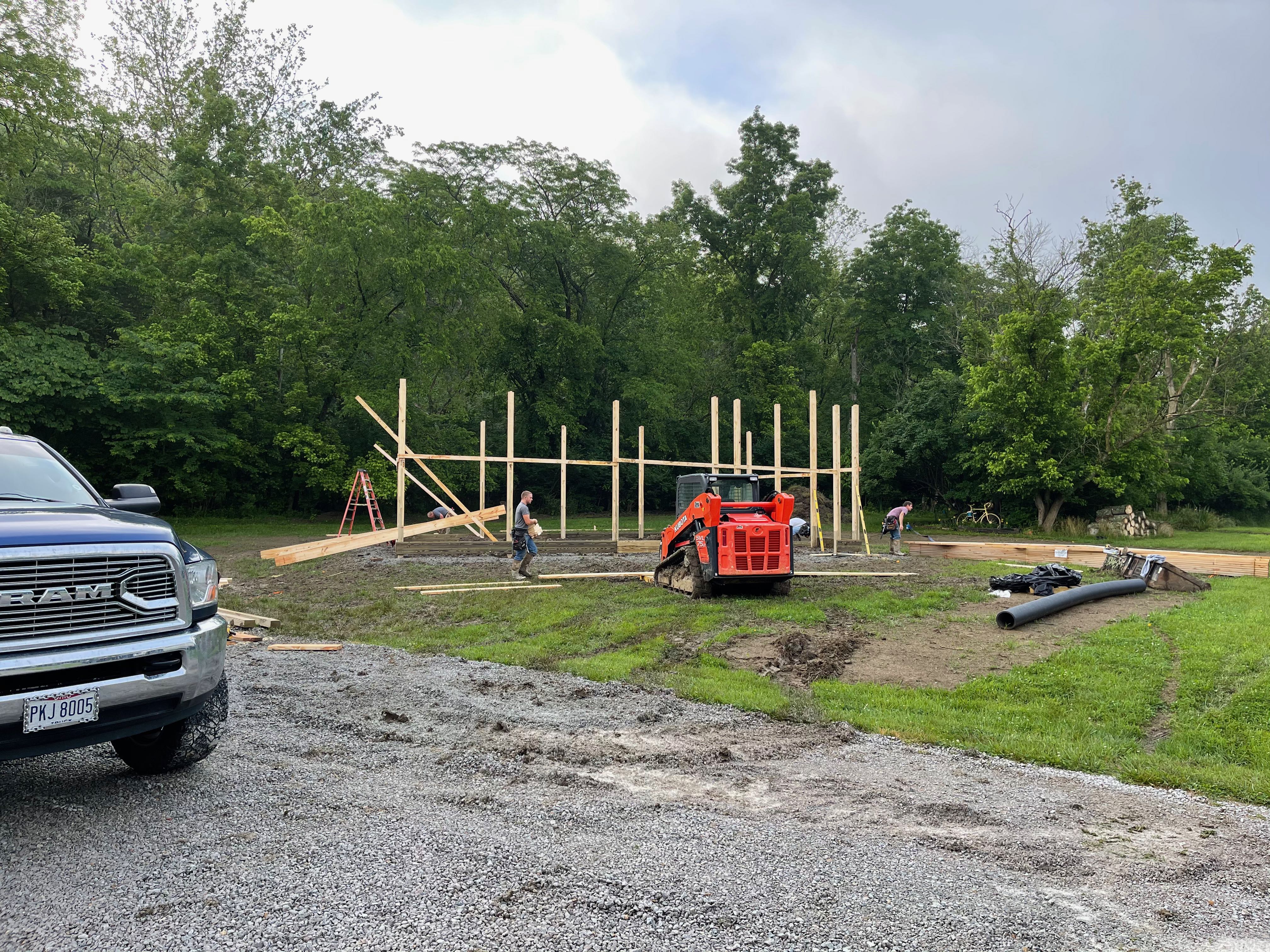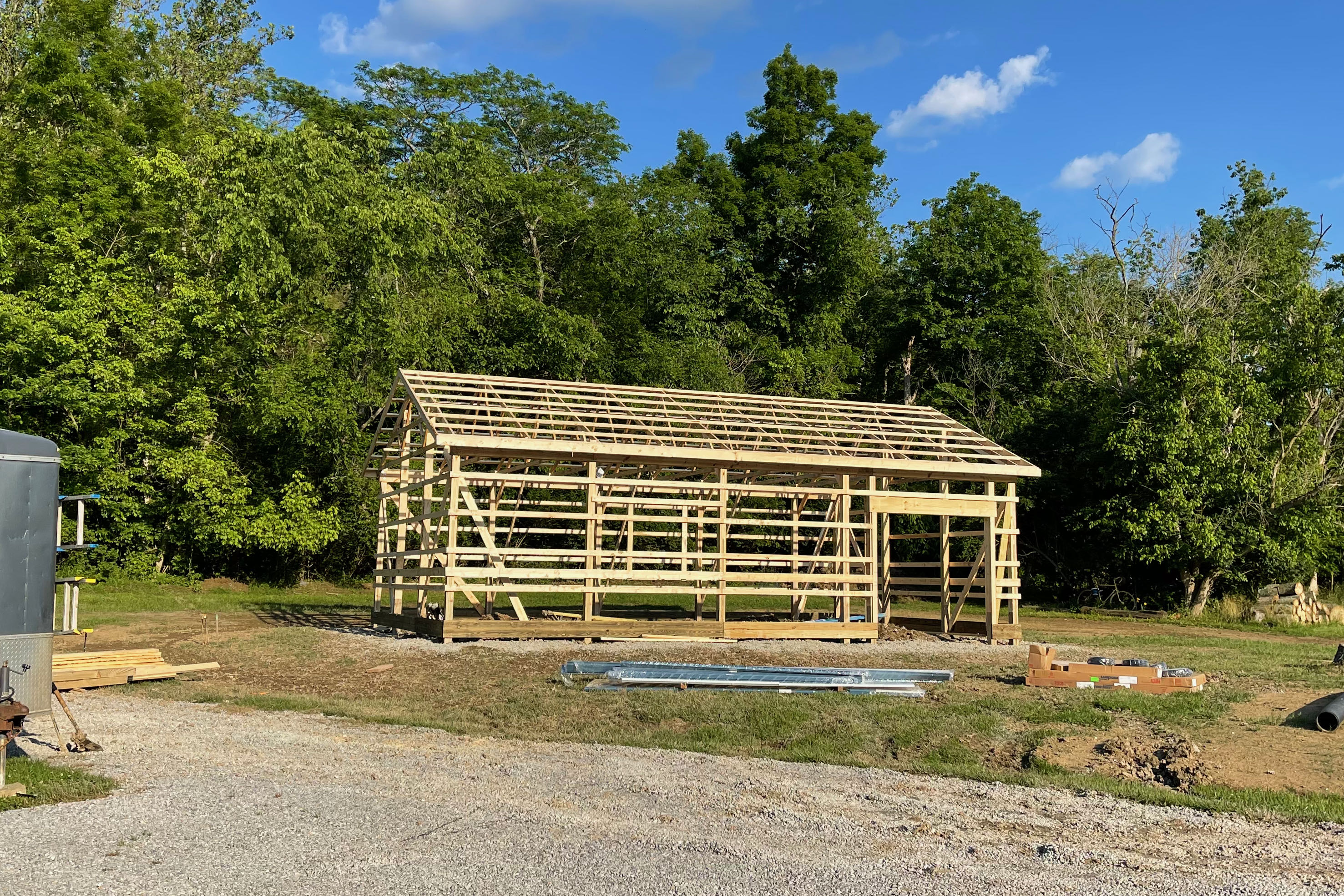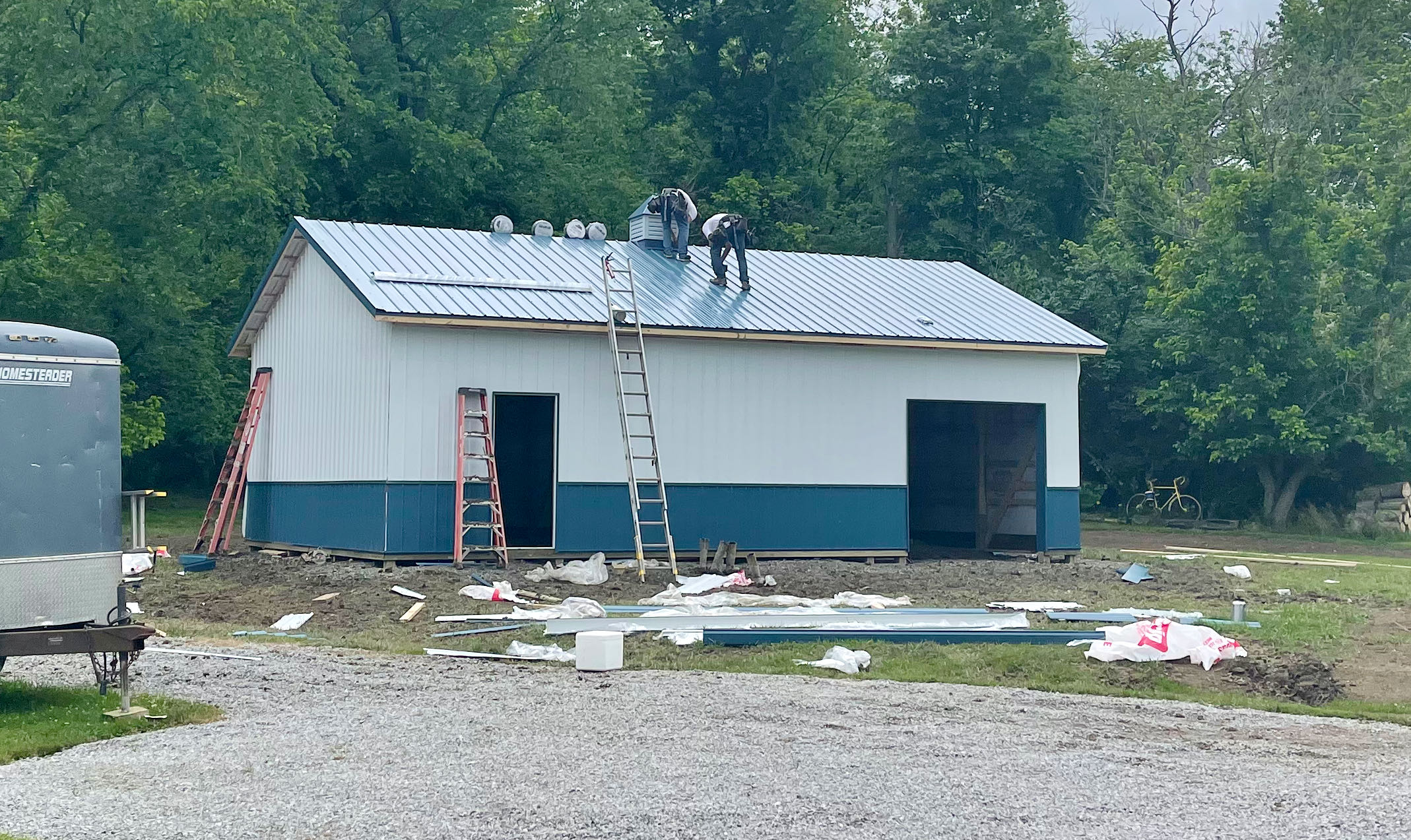 June 15, 2021
Concrete was poured today. It was a little hard to visualize the interior until the concrete went in. It will need to set about a week before going in there and another 3 weeks before I can put a sealer on it. The concrete crew put a beautiful finish on it so I will leave the color and finish and seal with a matte clear concrete sealer.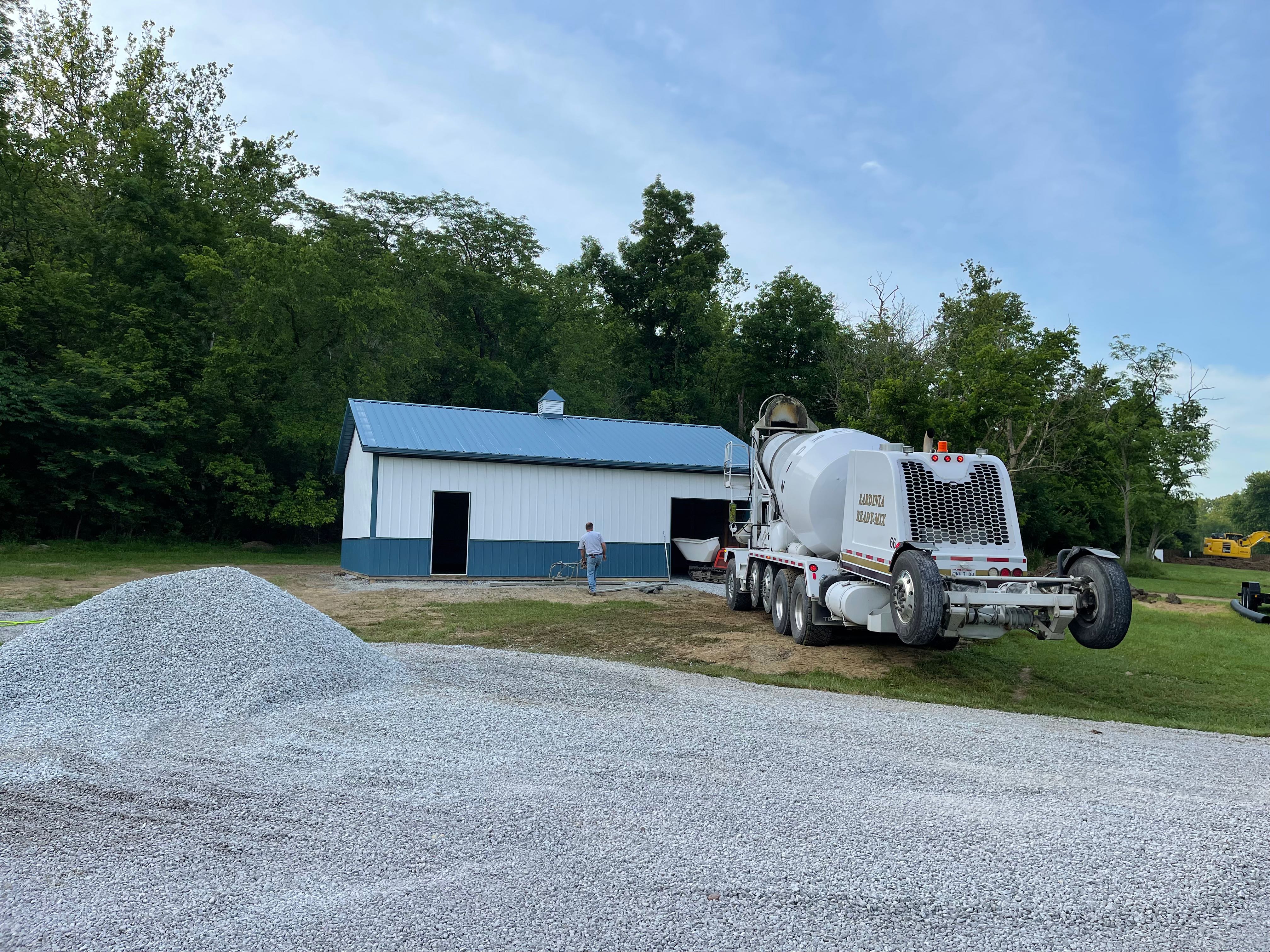 August 1, 2021
The concrete is sealed. All windows and doors are in. I just completed the electric, installed the wood stove chimney, I have the walls and ceiling all studded out to accept insulation and covering. The propane company will be here this week to set a tank and install the furnace. I am having a manifold installed outside to tie into for a gas kiln.
I have a list a mile long of things to do. Managing current studio work and construction is quite a challenge but I'm moving along to my satisfaction. Still shooting for a probable October opening.